Indamira Pets
Professional Pet Shampoos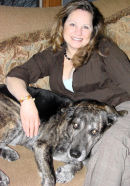 "Thank you for your interest in our professional pet shampoos!"
Hi! My name is Kathy, one of the owners of Indamira Pets. Whether you're a professional groomer seeking a better shampoo for your business, or a thoughtful pet owner who bathes your own animals, our shampoos are certain to impress!
Developed by my husband and myself (he's a chemist and I'm a groomer), our pet shampoos have been in service since 1999, steadily gaining momentum as "the trade secret" for those in the know. Please visit our online store, and I invite you to
read our shampoo story.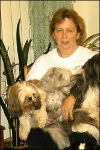 I have been a pet groomer for 29 years, a shampoo distributor for over 12 years, and I also spent 3 years as a grooming school instructor. The Indamira Pets line of shampoos has been, by far, the best product line I have ever used or handled. The shampoos are deep cleaning, yet gentle on pets. I have not had any problems with... - Read More
Glacial Rain

TM

About

GLACIAL RAINTM is a super-concentrated pet shampoo of the highest quality. Containing far more cleansers than the average pet shampoo, fresh-scented GLACIAL RAINTM relies upon a complex blend of cleaning agents, including sugar-based cleansers that are strong and thorough, yet safe and gentle for the pet.

Features:

Delivers exceptional cleaning power
Lifts soils and cuts grease and oils
30:1 dilution ratio
Creates a rich lather that easily rinses away
Excels as a vibrant whitening shampoo
Sugar Soap

TM

About

SUGAR SOAPTM is a remarkable hypoallergenic pet shampoo designed for its incredible mildness to both the skin and eyes of the pet. SUGAR SOAPTM gets its name from the sugar-based cleansing agents, detoxifying agents, emollients, conditioners, and humectants that it contains. Naturally non-irritating and rapidly biodegradable, sugar-based cleansers are the perfect choice for a soothing, hypoallergenic pet shampoo.

Features:

Soothing hypoallergenic formula
Delivers exceptional cleaning power
Contains no fragrances, dyes or botanicals
Ideal for pets with sensitive skin or eyes
Creates a rich lather that easily rinses away
Silky Way

TM

Oat-A-Coat

TM

SILKY WAYTM is a concentrated pet shampoo containing real silk and milk conditioning proteins...

OAT-A-COATTM is a concentrated pet shampoo containing large quantities of colloidal oatmeal...
Please view our catalog of high-quality, unique products through our online store, and be sure to tell a friend!!