Pam Crombie
We always bring our Flat-Coated Retriever show dog, Tilly Du, to our groomer for a bath with Glacial Rain shampoo. As a black dog with a flat coat, it is important that Tilly's coat be in beautiful and excellent condition. Minimal actual trimming and grooming is required on Flat-Coated Retrievers. A natural shiny healthy coat is important. Glacial Rain smells great and gives beautiful luster to her coat. Tilly is always ready for the competitions and seems to know she looks beautiful with added confidence. Recently Tilly became an AKC Champion and now she is working on her grand championship. Glacial Rain helped make it happen!
Oak Hill Farm Standard Poodles
Portage, WI
My name is Linda Isensee, I own Oak Hill Farm Standard Poodles.
We have been using Glacial Rain Shampoo exclusively for the past year. We bathe and groom all of our twenty-eight Standard Poodles once a month. In that time my groomers have noticed a dramatic difference in the quality of the coats of my dogs. Everyone who comes to Oak Hill comments on their beautiful coats.
So thank you for the excellent product and the wonderful customer service.
Linda Isensee
owner of Oak Hill Farm Standard Poodles
Cherwood Toy Poodles
Bois D'Arc, MO
I have been a professional Dog Groomer for 40 years, and have shown poodles for most of that time as well. I used Indamira Pets' shampoos exclusively in my grooming shop from 2001 until I retired. I never previously used a shampoo that compared to the quality, versatility and cost effectiveness of the Glacial Rain. The fragrance is pleasant, and Glacial Rain leaves the coat the natural texture of the breed and rinses out easily (for show coats, a real must!). I still breed and show poodles; therefore I still need a shampoo I can rely on to keep their coats in winning condition. These are products I truly believe in so much!
Sincerely, Cher Smith
Classy Canine
Waukesha, WI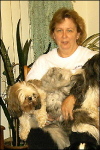 I have been a pet groomer for 29 years, a shampoo distributor for over 12 years, and I also spent 3 years as a grooming school instructor.
The Indamira Pets line of shampoos has been, by far, the best product line I have ever used or handled. The shampoos are deep cleaning, yet gentle on pets. I have not had any problems with them negatively affecting the skin or coat. In the grooming world, we all know that a client will be upset when a pet is brought home from the groomer with itchy, uncomfortable skin.
Each product has been developed for a purpose, and I have never been disappointed. I personally use all the shampoos on my own pets. It's nice to have a line of shampoos that actually do what they say they'll do.
Roni Foster
Owner
Happy Tails Pet Center
Portland, OR
I use Glacial Rain as my "main" shampoo for professional pet grooming. It lathers easily, cuts grease and dirt and rinses easily as well. The dogs and cats always come out squeaky clean and smelling fresh! With it's high dilution rate, it lasts a very long time, which makes it very affordable. We also find that our Self Service customers enjoy using the Glacial Rain for the same reasons that I do.
You just can't beat the quality of these shampoos! Best wishes for a clean and happy pet!
Rene' Warren
Owner of 'Happy Tails Pet Center', Portland, Oregon
Tender Touch Pet Grooming and Puppy Boutique
Griffin, GA
Dear Indamira Pets,
We wanted to thank you for your amazing shampoos. These were made just for groomers who have to deal with all different types of skin, and the problems that go with them. Your Sugar Soap is awesome for animals with sensitive skin, and ones that are allergic to fragrances and dyes.
Glacial Rain Rain is used in our shop constantly, as is the Oat-a-Coat. Silky Way seems to be ideal for long-coated breeds, and the Yorkies come out beautiful! Thank you again for your wonderful products.
Monty Perry
Owner
Doggie Styles Pet Grooming
Ishpeming, MI
I just wanted to say "Thank You." As a Pet Stylist/owner, we are always looking for that right product. The repair agent who services my bathing system referred me to Glacial Rain. I was having a lot of problems with the motors and after I had the second motor replaced in 3 years I asked if they knew what other groomers have been using. They gave me Indamira Pet's phone number, and after trying the Glacial Rain and Oat-a Coat, I love it. Nothing compares to this line of shampoo.
Christine Kasbohm
1
6

Acres Equine Educational Center

Union Grove, WI

I have finally found a product for bathing horses that works! I use Glacial Rain Premium Shampoo for any horses with grass or dirt stains... like my Paints, who just love to grind it in. This shampoo will not turn your horses' white areas into a "purple white." Just bathe as normal and see the pink skin appear, and the dirty or stained white turn into a "bleach-white clean."

For frequent bathing I use the Sugar Soup. This product doesn't strip the essential oils from the coat, and that keeps it shiny and looking great. I can't believe how well it works on manes and tails! My horses' tails are healthy and free flowing with out adding any other conditioners.

Both shampoos leave a shiny, soft, healthy looking coat. Best of all, both shampoos are concentrated and that works out to be very economical.

Jody Halladay

16 Acres Equine Educational Center