Hi! My name is Kathy and I'd like to share with you the story of Indamira Pets. Back around 1996, I had just opened my first grooming shop in Lake County, Illinois, and I was trying all different kinds of pet shampoos. There were certain things I liked about some of them, but there wasn't one shampoo that had everything I was looking for. I was tired of the empty promises and outrageous claims on the labels.
Meanwhile, my husband, Dave, had started a new position as an R&D chemist at a company specializing in cleaning compounds and food ingredients. With his background in formulating cleaning products and my experience with grooming pets, I saw an opportunity and said to him, "Hey! You should make an excellent pet shampoo for me!" I was hoping I could finally get the shampoo I always wanted, and save some money at the same time. Well, he sat on the idea for a couple of years, even though I often bugged him about it. Then, one day along comes a shampoo ingredient salesman and says to my husband, "Your wife is a groomer, why aren't you making your own pet shampoos?" Brilliant! Now, all of a sudden he decides to get motivated. =)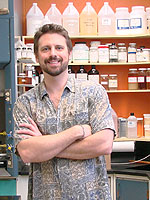 Over the next full year, Dave and I worked together to create a pet shampoo that was everything I wanted. Important things like easy rinsing, deep but gentle cleaning, and a rich, luxurious lather were at the top of the list. We tried all kinds of ideas. He would send me a new formulation and I would tell him where it needed improvement. It had to be just right! And along the way we figured that there must be other groomers also looking for a better shampoo, so we designed ours to be highly concentrated so that they would get their money's worth.
In January of 1999, under the "Bow Wows and Meows" brand name, we introduced three new shampoos to the world…or at least to a small area around our hometown! The result of our little "pet project" was our flagship product, Glacial Rain™, for which this website is named. Personally, I was happy just to have the shampoo I'd always wanted, and I've used it in my shop every day since then. And if other groomers wanted to buy it, I could feel good knowing that they'd be getting a great value.
Fortunately, we did manage to sell some shampoo over the years, and we now have a loyal customer base, some of whom have graciously offered their testimonials to this site. We invite you to read what they have to say. You may not have heard of us before, but it is our hope that this website will help spread the word about what a value and what a difference our shampoos can make in your shop. They work great in my shop, and they can work for you, too! We hope you'll give our products a try.
Thanks!
Kathy